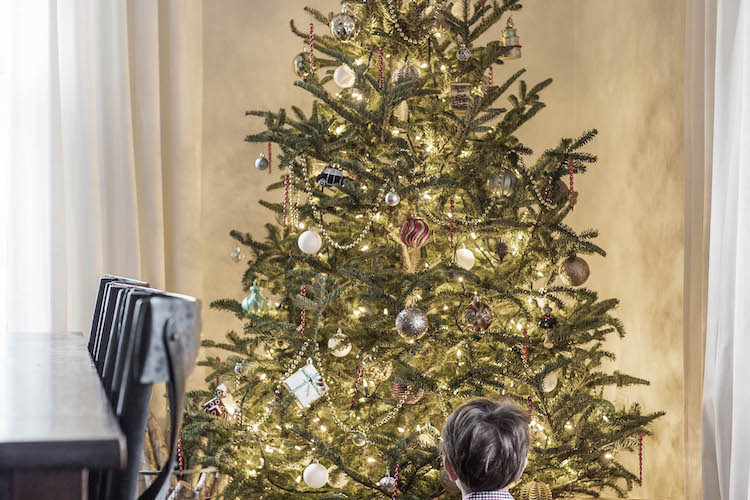 For many, the holiday season is about family and those traditions that evoke nostalgia and snap us into the spirit of Christmas. Ashley Thurman of
Cherished Bliss
was able to share the simple but timeless tradition of decorating a tree by picking up a few vintage-inspired Home Depot products and showcase her holiday style.
Every year as we say goodbye to Thanksgiving, we start to plan our Christmas Decor (or maybe even sooner). I typically decorate multiple trees, but I love nothing more than a fresh, live tree in our home. There's just something about a real tree that adds a whole new level of coziness to our home.
I decided to let my kids take the wheel this year! I'm more of a neutral kind of person, but the kids all wanted color and fun this year, so we built upon this adorable Christmas Ornament Set.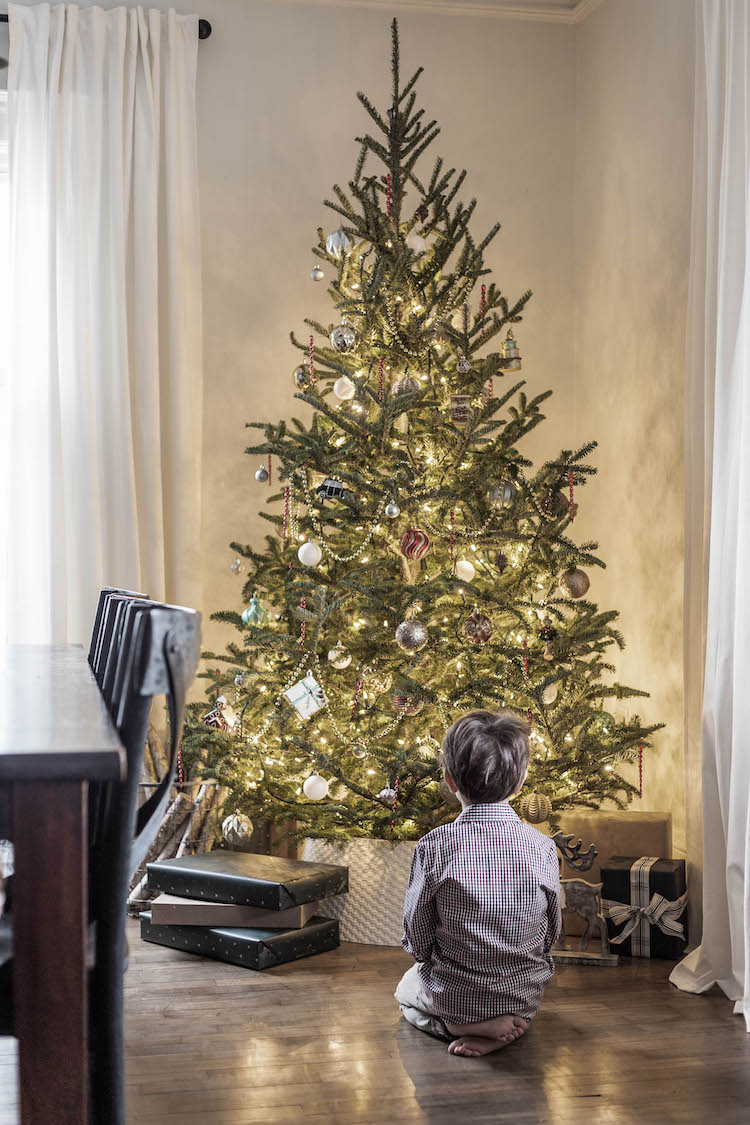 Choosing the Perfect Christmas Tree
When you head out to look for a Christmas tree there are a few things to keep in mind. Knowing how you want to decorate your tree beforehand can help you determine which tree species to go with. Since I knew we wanted a nostalgic Christmas Tree, I was looking for something imperfect and a little sparse. I love how ornaments look on trees with lots of space between branches.
We used a Christmas Tree stand for trees up to 8'. It's very important to choose the correct stand. Then we wrapped it with a tree collar instead of the more traditional tree skirt option. I love how this particular tree collar is magnetic, making it very easy to access the tree stand for adding water.
Stringing Lights on a Live Tree
After years of stringing lights on trees, I have determined the best way to do this is to go up and down vertically with the lights versus around. Not only is this easier to do with one person, but it also requires less lights and isn't as difficult to take down at the end of the season. We used the 300-Light LED Mini Constant-On White String Lights. These came on a spool making it a breeze to unwind as I strung the lights on the tree. The spool also makes it great for storing after Christmas. To make things easier, I also purchased this basic timer so I don't forget to to turn my lights off.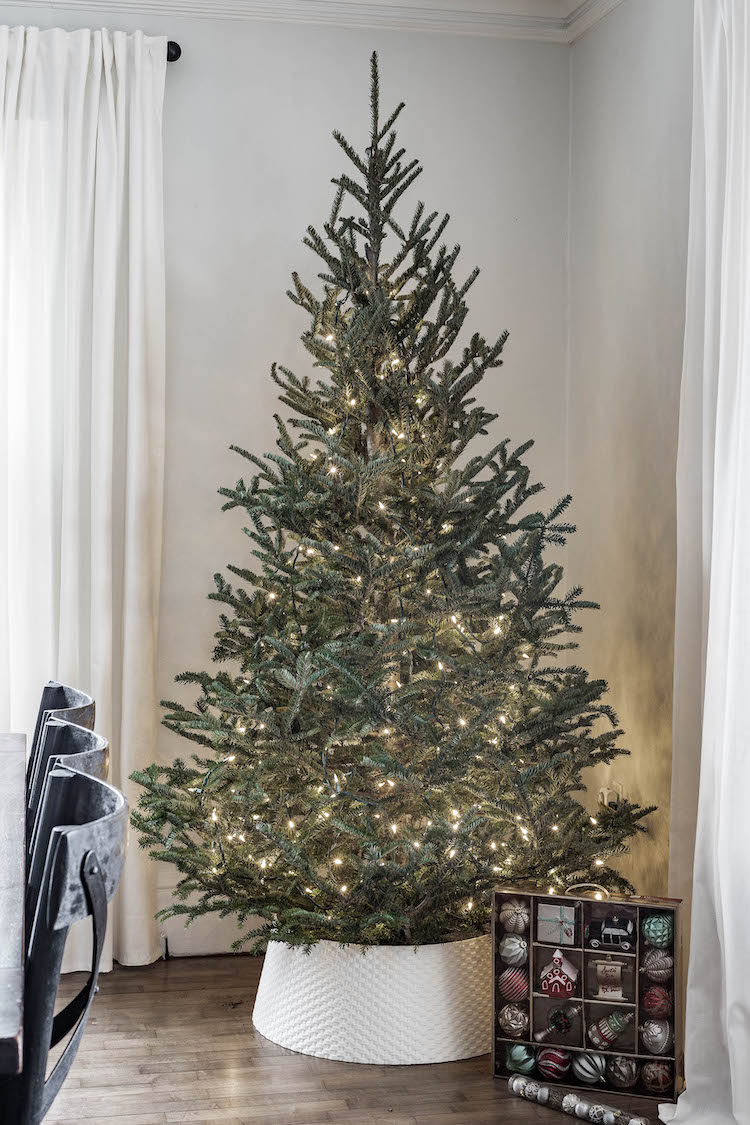 Decorating a Nostalgic Christmas Tree
Since the kids were in charge of decorating the tree, you can guess what they wanted to start with. Ornaments, of course!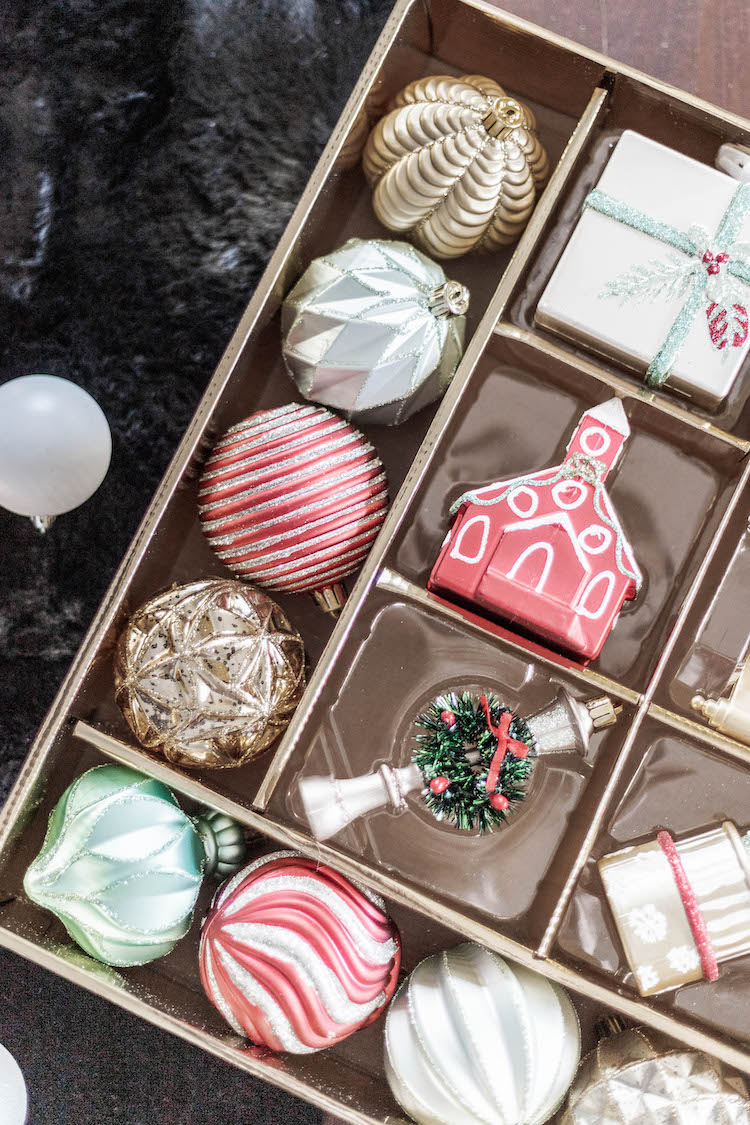 The next step was to use the plain white Christmas balls to accent the decorative ornaments. Followed by these smaller ornaments to provide depth. I always suggest adding either white or black ornaments as an anchor in a tree color scheme. Since we were going with a bright and happy theme, I chose white.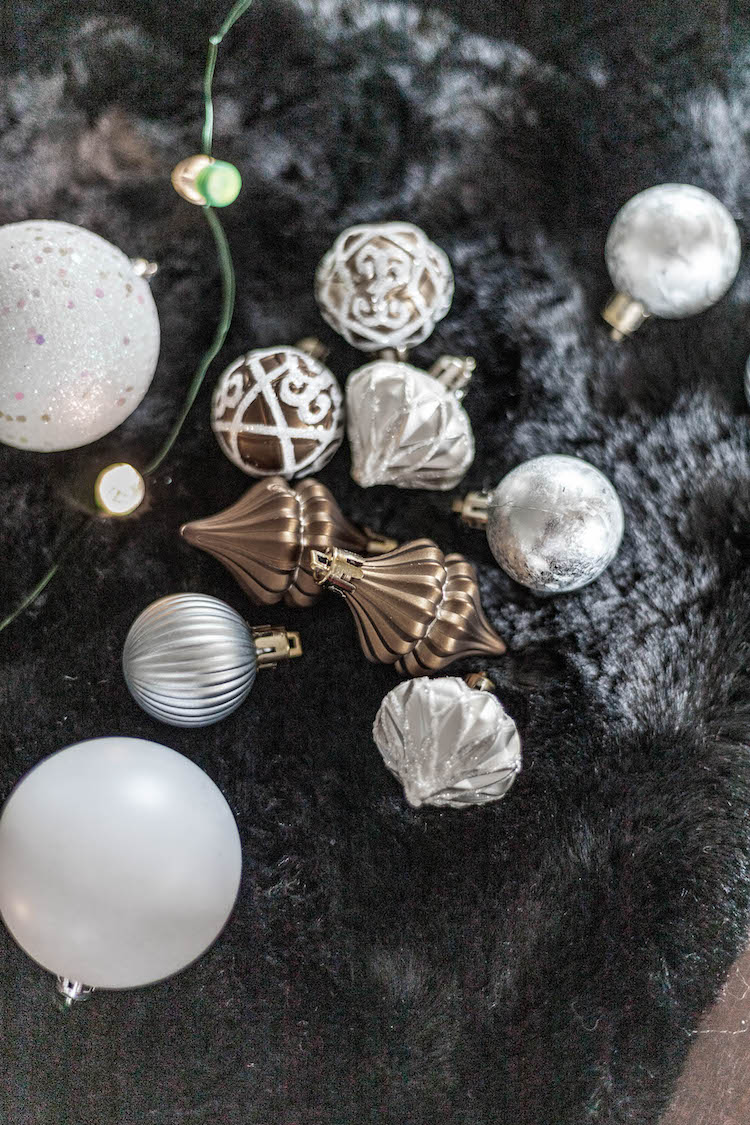 Ornament Hanging Tips
When hanging the ornaments, we hung the mini ornaments and the icicles on the ends of branches. There's just something nostalgic about ornaments that look like they are about to fall off. Probably because my kids have broken many ornaments this way. However, with all these shatterproof ornaments you won't need to worry about that!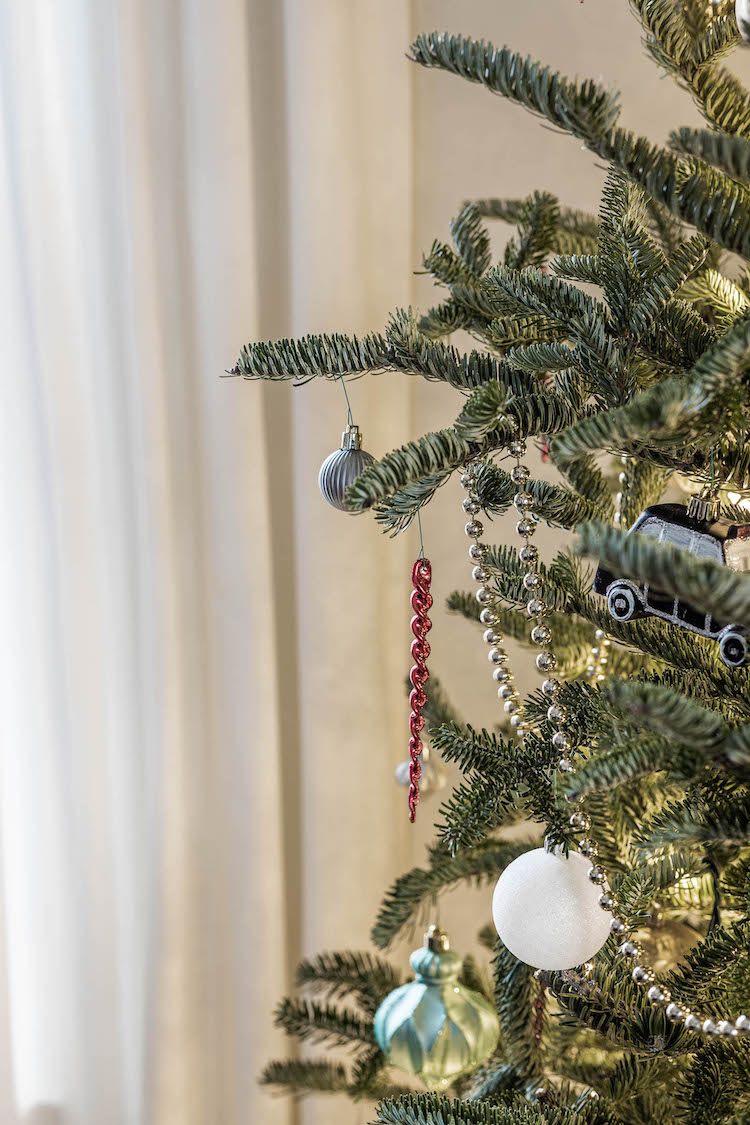 Add Beaded Garland
Now that the ornaments have been hung, it's time to add the garland. I know it might seem silly to do these things out of order, but I truly believe these little details are what makes a difference in trying to get something feel a certain way, and layering things so that it is in fact seen in a certain way.
When adding the beaded garland, I started at the top and draped it as it worked with the branches. For a 7'-8' tree, I used two boxes which gave us three layers across the tree.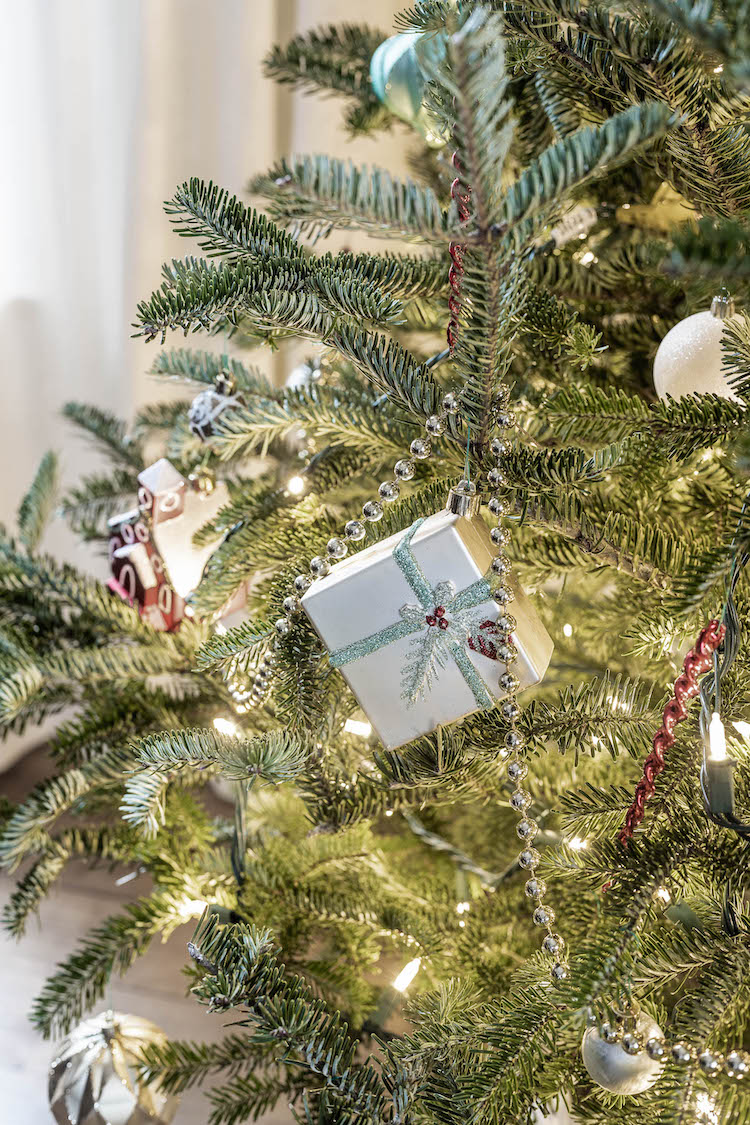 Creating Memories
When decorating a tree, it's important to add those personal touches. It's not just about choosing the right colors, or the right size to create this perfect blend of everything. It's ok to step back into childhood for a few minutes and break some decorating rules. Don't feel like your tree has to look like anyone's except your own! Every year I buy my kids special ornaments to remember as the years go on, and this ornament set was the inspiration for this year's tree! We have so many new memories and funny little jokes from decorating our tree this year and I can't wait to pull these ornaments back out next year and reflect on all the good moments!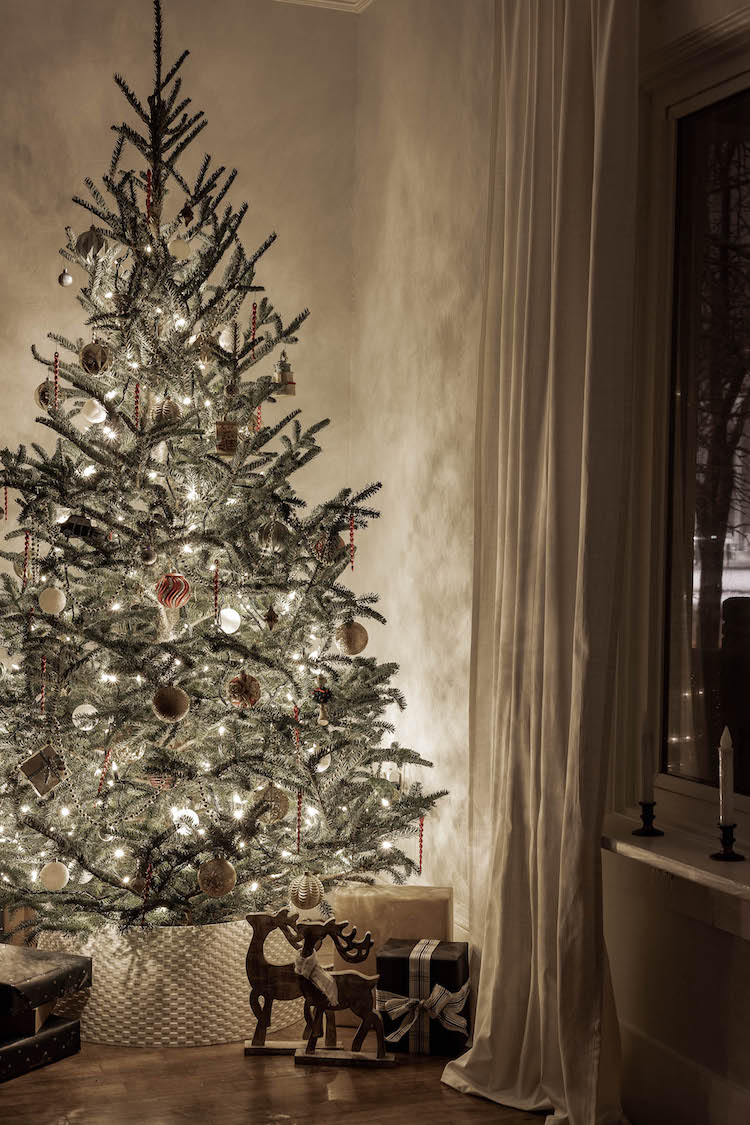 Shopping List:
The post Traditional Nostalgic Christmas Tree appeared first on The Home Depot Blog.