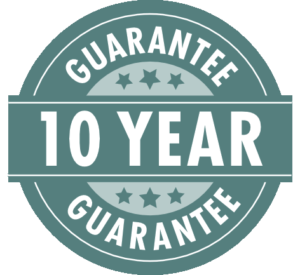 Waterproofing is the process of making an object or structure waterproof or water-resistant so that it remains relatively unaffected by water or resisting the ingress of water under specified conditions.
Water resistant and waterproof often refer to penetration of water in its liquid state and possibly under pressure, whereas damp proof refers to resistance to humidity or dampness. Permeation of water vapour through a material or structure is reported as a moisture vapor transmission rate (MVTR).
Hydroblock TDS (CERTIFIED) 25 euro sqm

Properties-Advantages –Waterproofing
Quick application (one component, ready to use)
During application it polymerizes and creates a single elastic hydrophobic membrane without joints.
It is not hydrolyzed and can be applied in places where water stagnates.
It bridges cracks up to 2mm, even at-10o C.
The substrate is allowed to breathe.
It provides excellent adhesion throughout the surface.
Pore provides excellent resistance to the sun.
It does not soften in summer and does not harden in winter, because it maintains its mechanical properties at temperatures
from-30 C to + 90 C.
The surface remains accessible
In case of mechanical damage to the membrane, it can very easily be repaired locally in a few minutes.
It provides certified anti-curbing properties.
Dust provides frost resistance.
It provides high reflective in solar radiation, giving better thermal insulation results .
Polylac Mono TDS – Primer – Hydroblock TDS 25 Euro sqm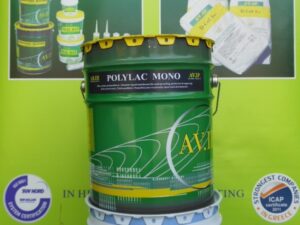 POLYLAC Mono is a viscous liquid of one component with fast-ripening, it is applied and produces membrane cold, has bituminous and polyurethane base.
Creates a permanent elastic membrane with remarkable adhesion on most surfaces. The membrane created, has highly resistant mechanical and chemical properties (except solvents).
It is suitable for application in vertical surfaces: does not run-does not drip-does not create bubbles. Based on elastomers
polyurethane hydrophobic resins, combined with chemically polymerized asphalt.
Properties-Advantages – Waterproofing
It combines the advantages of polyurethane and bitumen.
It can easily be applied to a wide range of surfaces and complex shapes. Recommended for vertical surfaces without running, dripping or creating bubbles.
Excellent adhesion to many types of structural surfaces using primer or without.Heat resistance: the membrane it creates has excellent thermal resistance, without softening.
It maintains its mechanical properties at a temperature of + 80 ºC and can withstand 15′ shocks up to + 180 ºC.
Physical resistance to cold: the membrane remains elastic above -40 oC.
Major mechanical properties, high elongation, elasticity and tear resistance.
They have excellent chemical strength and perfect water vapor barrier.
Uses: waterproofing and protection for:
PBT membranes(excellent for repairs).
A sealant of horizontal joints with moderate patency and for construction joints.
They are found in underground and foundations, under tiles and in wet areas such as bathrooms, roofs, etc.
Concrete substrate, roofing systems, gypsum, cement boards, etc.
Waterproofing in areas with constant water stay, in closed areas with very moisture.
Limitations: not recommended for poor quality "inconsistent"substrates.
Neoproof PU W – Primer -Revinex 15 Euro sqm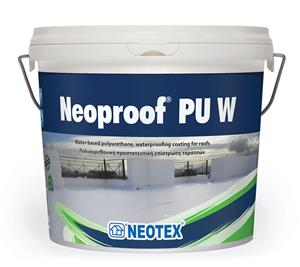 Application: the Neoproof PU W is applied after
from good stirring in at least two layers with different or
vertical direction between them.
The application is done with brush, roller, brush or airless spray. The first layer is diluted in percentage 5% with clean water. The second follows after about 24 hours no dilution.
The same applies to a third layer application.
Application Notes /
Restrictions
➢ Neoproof PU W should not be applied under conditions
moisture or when wet weather is predicted to prevail; or
rainfall
➢ Application conditions: surface humidity: <4%, relative
atmospheric humidity: < 80%. It should be implemented in
temperatures from + 10 ° C to + 40°C.
➢ For greater requirements and in cases of crack cover
over 1.5 mm the Neoproof PU W can be enhanced with the
polyester fabric Neotextile. In this case, they are required
at least 3 layers of material.
➢ The final properties of the film are acquired 7 days after application
of.Polyurethane liquid membrane method of waterproofing is used for the flat roof area and exposed to weathering. This waterproofing method is expensive.
Polyurethane Liquid Membrane can offer higher flexibility. Polyurethane is very sensitive to moisture content present, therefore before application, one has to be very careful evaluating the moisture content of the concrete slab, otherwise peeling or de-bonding of membranes may happen after some time.